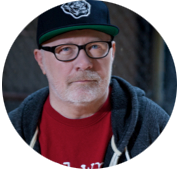 I get asked all the time why an old white guy is interested in hip hop theater.
This is my attempt at an answer to that question.
Broadway Ninety Years Ago
On September 18, 1926 the musical Countess Maritza opened on Broadway. It ran 321 performances and was an operetta in three acts.
It was one of only two types of musical performance on Broadway at that time, the other represented by George White's Scandals which opened in June of 1926 and closed in June of 1927.
Countess Maritza is set in Hungary at the estate of the countess. Its plot revolves around poor but aristocratic brother and sister trying to marry rich aristocrats.
George White's Scandals was one of a series of musical reviews that lasted from 1919 to 1939. No plot but many wonderful popular songs.
This was Broadway. In 1927 that all changed – because on December 27, 1927 Showboat opened.
Showboat: Broadway Show Music Equals Popular Music
Like Scandals, Showboat was filled with popular songs, but these songs, rather than standing, alone helped tell a story. And the story they told was not one of aristocratic love lives but real issues: poverty, racial injustice, infidelity.
Broadway changed. The music were the songs that people heard on the radio. The issues the plays and musicals dealt with were issues that people cared about. For the next thirty years this is how things remained.
Broadway Music and Popular Music Diverge
Starting in the late 1950s things changed again, and not for the better. Two different trends together, interwoven and supporting each other, changed the way the wider popular culture and Broadway related to each other.
First, Popular Music.
It was no longer the music written by George Gershwin, Cole Porter, or Irving Berlin. It was no longer music written by Broadway composers for Broadway shows. It was written by people who didn't think of Broadway as their primary market.
Initially it was written by teams of mostly anonymous very talented people tucked away at desks in 1650 Broadway. Later they ceased to be anonymous. Lennon and McCartney, Paul Simon, Bruce Springsteen and Tupac became as well known to their generations as Cole Porter was to his.
The reason for this is due to the second trend: how composers were paid for their work changed.
Second, How Song Writers Get Paid
A writer does not get paid to write songs. He is paid on how and how many are distributed.
When Showboat opened most music was distributed in the form of sheet music. People who bought sheet music tended to be people who could play a musical instrument. Now, not a lot of people can do that so not a lot of money went to the song writer.
Another way to be paid was to collaborate on writing a Broadway show, with the potential of hundreds of thousands of ticket buyers. Economically speaking, the decision was easy to make.
But Then Technology Changed…
Songs were distributed as recordings, first on 45s, then albums, then CDs. A songwriter could write a Broadway show and sell hundreds of thousands of tickets, or make a record and sell tens or hundreds of millions. Again economically speaking, the decision was easy to make.
Broadway music and popular music separated.
Everything Old Is New Again
Things have changed once more.
Popular music (which is no longer Rock as it was in the 60s but Hip Hop) is distributed not physically, but by download. Spotify. Pandora. You can get anything you want online, most of it at virtually no cost.
And, if like The Who and their album Tommy, your intention is to tell a story through a series of songs, you are out of luck. I can download one song from Tommy and half a dozen from other artists and voila! A pinball mixtape.
Writers make as much from this form of distribution as they did when songs were distributed as sheet music, with even less control over their art.
Hamilton Is The Future
We believe that songwriters of popular music, the talented hip hop artists, will once again turn to writing for the stage. For both artistic and economic reasons, 2017 is the new 1927. Popular music will again become theater music.
It is the beginning of a new revolution, and I, the old white guy, want to be part of it. It's the future.
Rhymes Over Beats will be there. We will provide a place where this generation and future generations of MCs will thrive.
We will be part of "who lives who dies who tells your story."